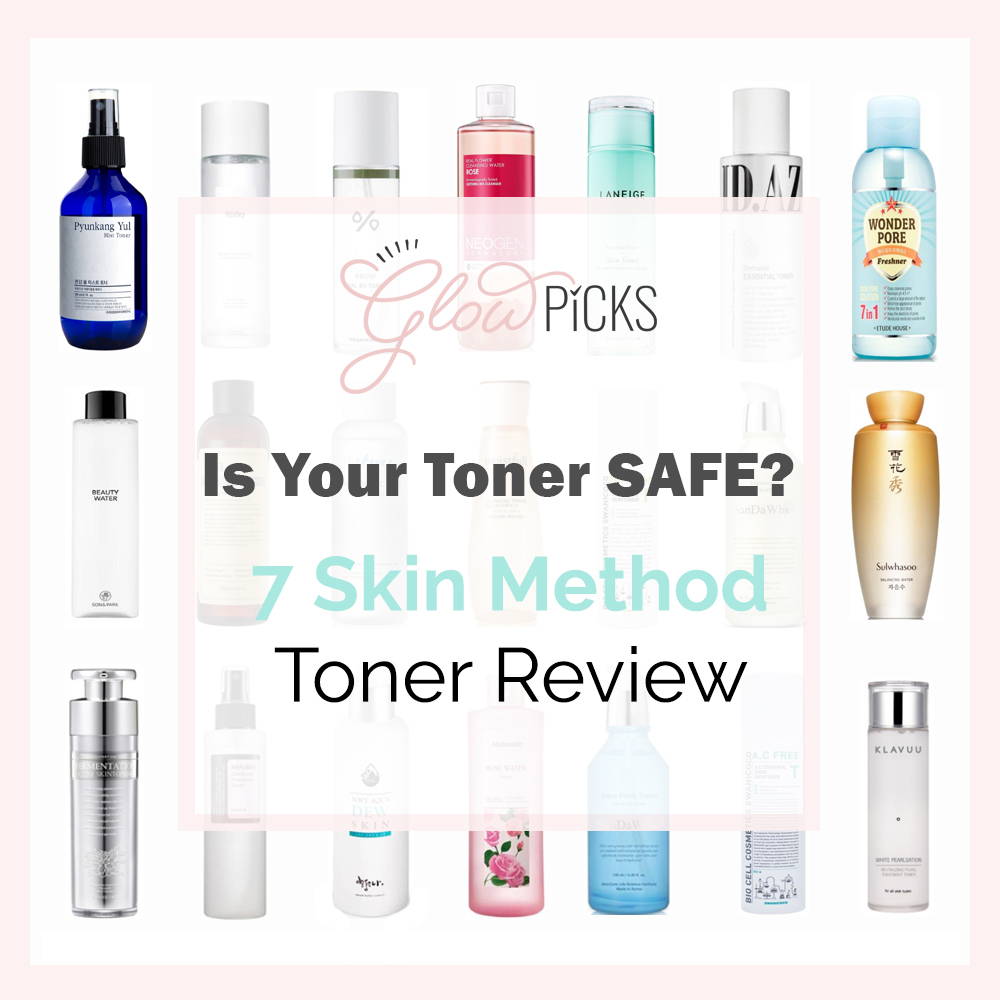 The "7 Skin Method" is a trend that is blowing up Korea! It is a method of layering a toner 7 times to give your skin a hydrated jump-start, creating a plump and supple canvas.

As good as it sounds, you need to do a bit of homework before trying out this hyped-up Korean beauty routine. It's essential that you choose the RIGHT TONER! Choosing the wrong toner can do more harm than good. Finding a toner that isn't harsh on your skin is the key as this regime requires your face to soak up quite a large amount.

Today, I am going to share with you what you need to look for in a toner for the "7 Skin Method" and review popular Korean toners.
8 THINGS TO LOOK FOR WHEN CHOOSING A TONER FOR THE "7 SKIN METHOD"
1. No PEG/PPG compound
PEG/PPGs are petroleum-based compounds that are highly likely to be contaminated with impurities and can seep into the epidermis. Generally, a small amount is not that harmful but when undertaking the "7 Skin Method" I would not recommend PEG/PPG compounds.
If you see toner ingredients listing PEG with a number or other data such PEG-6 or PEG-40 hydrogenated, you now know that this product is not suitable for the "7 Skin Method".
2. No Fragrance
Fragrance is a known skin irritant. Don't be too concerned if only a small amount is included in a product that is not meant to be applied in a large quantity. However, with the "7 Skin Method" in mind, your toner should be 100% fragrance free.
3. No Harsh Preservative in High Content
Along with Parabens, there are other harsh preservatives that are commonly used in toners such as Phenoxyethanol, Disodium EDTA, and DMDM Hydantoin. We are certainly NOT against preservatives, as skincare products need them to keep their shelf life, but you need to educate yourself on what to look out for.
Preservatives need to be included in toners in small quantities only. How do we know if it's only a small amount? If they are listed towards the end of the ingredients list, you can generally assume that the amount included is only minimal.
4. No Alcohol
Alcohol dries out the skin instead of hydrating it, which is the opposite of what we are trying to achieve! Look for an alcohol-free toner that won't leave your face flaking, irritated and thirsty.
5. No Witch-Hazel
Toners with witch-hazel are mostly astringent toners, not hydrating for use in the "7 Skin Method" toners, hence not suitable.
6. No AHA/BHA/PHA Toners
These toners remove dead skin cells which can be quite drying as well as skin sensitizing. These should be used only once or twice a week, not applied every day.
7. No Mineral Oil
Mineral oils are made from petroleum, a by-product of the distillation of petroleum to produce gasoline! You certainly wouldn't want to be patting this on 7 times! Imagine what it's doing to your skin!

Do you need a new toner that works for your skin?